Why Safety & Security glass tinting?
No matter what surface you are tinting, applying a film creates a safer environment, which is particularly important when you have little ones around. Adding a Safety and Security film will increase strength of the glass and thus make it extremely difficult to break and almost impossible to enter through once broken. Essentially, Safety and Security films can prevent an accident with glass from becoming a medical emergency. Safety and Security films are commonly used in child care centers, preschools and primary schools to prevent injury to children from hard contact with glass.
The films are also used for buildings that may be susceptible to bomb attacks, violent storms, earthquakes, vandalism and theft. There is also a range of Safety and Security films for vehicles.
Safety and Security films come in many shades, from completely clear to very dark and reflective. They come in a range of thicknesses depending on the level of security needed. On top of the safety benefits these unique films offer, they also insulate the glass, significantly reducing the inside cooling and heating.
An automotive solar control glass film offers:
• Increased safety and security for all types of glass
• Over 99% of Ultra Violet (UV) light rejected
• Reduction in energy consumption
• Insulates and strengthens glass
• Prevent smash and grab theft
• Privacy
• Glare reduction
• Dramatically reduces fading of interior
• Increased comfort levels
SafeVision Specifications
PRODUCT
CODE
FILM COLOUR
INT | EXT
SOLAR
ENERGY
REJECTED
VISIBLE LIGHT
TRANSMITTED
(VLT)
VISIBLE LIGHT
REFLECTED
INT/EXT
SOLAR
ENERGY
ABSORBED
SHADING CO-
EFFICIENT
(S.C.)
WINTER
U-VALUE
(W/M2K)
SOLAR HEAT
GAIN CO-EFFIC
(S.H.G.C.)
VISIBLE
GLARE
REJECTION
ULTRA
VIOLET
PROTECTION

SF04

CLEAR-CLEAR

18%

89%

9%/9%

16%

0.94

6.01

0.82

2%

99%+

SC08

CLEAR-CLEAR

19%

87%

9%/9%

17%

0.93

6.01

0.81

2%

99%+

AG04

CLEAR-CLEAR

18%

89%

9%/9%

16%

0.94

6.34

0.82

2%

99%+
Technical data sheet
PRODUCT
CODE

FILM GAUGE




(IMPERIAL)

FILM GAUGE




(METRIC)

No# OF
PLIES
MAX ROLL
WIDTH
TENSILE STRENGTH
AT THE BREAK
(lbs/in2 | kg/cm2)
ELONGATION
AT THE BREAK
PEEL
STRENGTH(
lbs/in2 | kg/cm2)

BREAK
STRENGTH
(lbs/in2)
ULTRA
VIOLET
PROTECTION

SC04

4 mil

100 microns

2 ply

1830mm

28,000 | 2,000

>150%

3200 | 1280

112

99%+

SC08

8 mil

200 microns

2 ply

1830mm

28,000 | 2,000

>150%

3200 | 1280

224

99%+
All values are intended for design use only. Materials used are subject to normal manufacturing tolerances. The included data does not constitute a recommendation for, or certification of the product or material tested. This data is provided for informational purposes and is not to be considered part of the basis of any bargain or transaction involving Glass Tinting Supplies.


.................................................................................................................................................................................................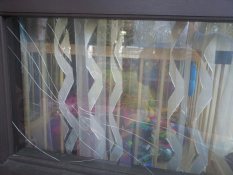 This window was fitted with SafeVision 4mil/.1016mm thick
clear safety film only 2 weeks before a child
fell onto the glass.

If the safety film was not fitted to this window, the child would
have likely suffered potentially
fatal injuries.