Why glass tinting of your vehicle?
Apply a window tint to your car, and you'll drive without a glare in the world. A high quality automotive solar control film rejects up to 66% of heat from entering through the glass, dramatically reducing your cars temperature, so you won't have to endure the discomfort of driving a car with an overheated interior. Because a large amount of heat is rejected, it will also decrease your need to use air conditioning and in turn use less fuel. With rising petrol prices this will allow for significant cost savings to the running of your vehicle.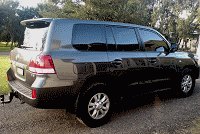 Although it is something that is not often thought about, harmful UV rays can enter your car and onto you and your passengers. If you drive frequently, it's important that you consider how you can protect your skin. A glass film on your car will reject 99%+ of harmful UV rays.
While the sun can damage your skin while you're in your car, whenever your car is parked in the sun, its interior can be damaged. A solar control film will prevent your vehicle's interior from fading and cracking.
In terms of safety, window films can protect your vehicle and you. You will drive safer because it reduces the unwanted glare from the sun in the day, and other driver's headlights at night. On top of that, in the unfortunate circumstance of an accident or vandalism, a window film will hold the shattered glass together.
And of course, window films look great and provide privacy for the occupants of the vehicle. Install a window film today and see how your driving experience can be improved. Installing window films on vehicles often requires great skill, and we recommend that a professional window film installer undertakes the install. If a professional finish is what you are after, please use a professional.
Locate a local car window film installer to you.
An automotive solar control glass film offers:
• Up to 66% of heat rejection
• Up to 92% of Infrared heat rejection
• Over 99% of Ultra Violet (UV) light rejected
• Reduction in fuel consumption
• Insulates and strengthens glass
• Stylish looks for your vehicle
• Privacy
• Glare reduction
• Dramatically reduces fading of interior
• Increased comfort levels
Related Topics